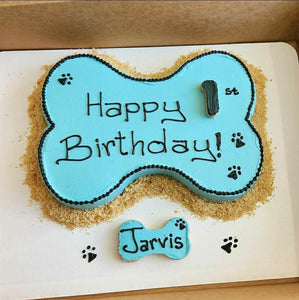 Big Bone MEAT LOVER
Paw shape 12x11 includes two colors, one for your cake color and one for your message.
One soft cookie for the name and a number Courtesy of us to your 4 legged baby.
Flavors: Peanut butter, pumpkin, sweet potato, carrot, banana, applesauce.
Carob (is not Chocolate) is safe for pets.
*The pictures, are from past cake orders and are an example of how your cake can be depending on what you order.
*Frosting Ingredients: Milk Solids, Yogurt Powder, Tapioca Starch, Potato Starch, Potato & Tapioca Maltodextrin, Coconut Flour, and Color food (colors can vary on cakes).
All the products are Human-grade and Organic.